San Francisco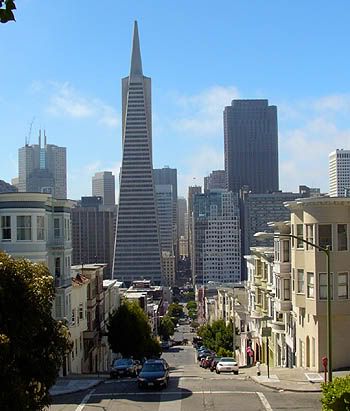 I'm back and I had a wonderful weekend in San Francisco. It felt so good to get away from my routine and to be a tourist! I am sorry to say that I was having so much fun that I didn't take a single picture. Yep, I carried that camera around in my purse all weekend without ever using it. Oh, well… I've searched the internet for some pictures of some of the things I saw and links to some of the places we went.
When I arrived on Saturday afternoon, Teresa and I went over to
Hayes Valley
for lunch at a little Belgian café (can't remember the name now) and some window shopping – all the while keeping up the girl talk. We then headed over to
Union Street
for more shopping, and we happened upon
Wee Scotty
where we met the owner, Frank, and enjoyed quite a conversation with him. I loved his Scottish brogue. Before heading back to her apartment to meet up with Toby, we stopped for cappuccino and a little something sweet late in the late afternoon (that's a tradition of ours) at
Bay Bread
.
For dinner that night, Teresa made reservations for us at
Garcon
. She knows how much I love French food! We started off our dinner with a kir and a little cheese platter. Yum! I ordered the lamb shank for dinner and we shared a tarte tartin for dessert. Okay, I don't even want to know how many calories I ingested this weekend! My only saving grace was that we walked a lot.
Sunday morning, we ventured over to Chinatown for dim sum and shopping. We enjoyed delicious dim sum at
City View,
found some darling
slippers
and other items at
Asian Image
, and learned a lot about tea and life from Uncle Gee at
Vital Tealeaf
. Yes, that's right, I now have a Chinese uncle. What a character Uncle Gee is! I went in there thinking I'd purchase some tea, but he wouldn't let me unless I tried some first. We sat at his tea bar for close to an hour while we learned about tea, and other things! What a hoot!
We then found a wine bar in another part of the city called
Vino Venue
, where we sipped a glass of rose sparkling wine and nibbled on cheese, dates, and dried apricots.
For dinner, Toby, Teresa, and I tried out a
Sardinian restaurant
they'd heard about. Teresa and Toby had traveled to Sicily, where Teresa's family is from, earlier this summer, and they wanted to taste the flavors of their trip again. We shared a nice bottle of Italian wine, a seafood appetizer, and flatbread pizzas. It was delicious, but I was so full… I went to bed on a very full stomach.
Then yesterday, Teresa and I had a simple, healthy breakfast (really, we did!) at
Café de la Presse
before walking through Chinatown again, then down to the
Ferry Building
. I love the Ferry Building and like going there each time I'm in the city. I found some wonderful books about the history of Chinese immigration in California for my classroom at
Book Passage
, and we had lunch at the
Hog Island Oyster Company
. We sat outside for lunch and had a beautiful view of the bay and the Bay Bridge. We sipped more sparkling wine, while enjoying oysters on the half-shell, a delicious salad, and some incredible sourdough bread.
The last thing we did before heading back to the airport was to take a streetcar back up to
Union Square
for a little more shopping. At that point, I was on sensory overload. The sights and the sounds of the city had saturated me and I was tired and ready to head home.
I truly enjoyed my time with Teresa and Toby. It's good to have friends who are so easy to be with and who are such gracious hosts. I've never had a bad time with them.
And now, I will be eating nothing but vegetables and drinking nothing but water for the rest of the week to compensate for all the eating we did over the weekend!