I Scream, You Scream, We All Scream for Ice Cream!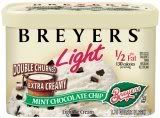 Okay, I am loving this ice cream. I have always preferred Breyers to other store brands, but this one has half the fat than regular ice cream. My favorite Breyers flavors are Natural Vanilla and Mint Chocolate Chip. I love the texture of Breyers because it reminds me of homemade ice cream. Anyway, there are only 130 calories for 1/2 cup, and there's just 5g of fat. Pretty good, huh?
I'm sure I'm serving myself more than a 1/2 cup, but still!!!
What's your favorite ice cream?