All About Books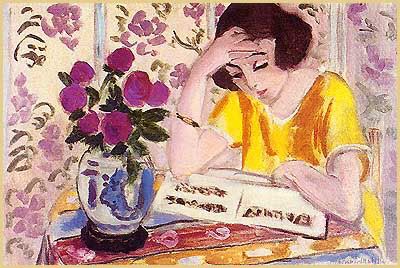 My favorite
tagger
is at it again! This time the topic is books. I usually spend a lot of my time during the summer reading. I love to go to the library and bring home a stack of books. This summer I wasn't able to do that with the school work I've had, and I missed it. Next summer will be different!

A book that changed my life - The Other End of the Leash, Patricia McConnell
The
dog trainer
I hired to work with Buffy and me a couple summers ago recommended this one. I understand my dogs much better because of it and know how to communicate with them more effectively.
A book I have read more than once - The Best School Year Ever, Barbara Robinson
I read this book to my students at the beginning of every school year. I never tire of the Herdmans' shenanigans.
A book to take with me on a deserted island - The Bible
What other book could you read over and over and still learn something new each time? It's a timeless classic! ;-)
A book that made me laugh - Marley & Me, John Grogan
I laughed so hard that I could hardly breathe!
A book that made me cry - The Time Travelers Wife, Audrey Niffenegger
This is a beautiful and amazing story.
A book I wish had been written - How to Lose Weight While Still Enjoying Wine & Cheese
Need I say more?
A book I wish had never been written - Mein Kampf, Evil Nazi Guy
I never read it, but I tried to think of something that led to much pain and destruction; something the world would have been better off if it and its author had never existed.

A book I am currently reading - Sadly, nothing...
I don't have a lot of time right now. :-(

A book I am planning on reading - ???
Do you have any recommendations? I should have some free time for reading in March 2007 - that's when my master's will be completed.
***** Bonus *****

A book series I highly recommend - The Outlander Series, Diana Gabaldon
It's got a little bit of everything. Warning: these books are highly addictive!
People who are now tagged - all book lovers!