Check It Out!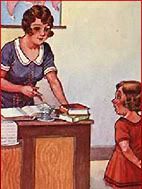 I've decided to put my blogging skills and the wonders of technology to use on behalf of my students and their parents. So, I've started a homework blog for them. It's got the clever title of
Miss McKee's Homework Blog
. How's that for creativity?
I'm not allowing comments or email through that blog, and it's not linked to my personal blog either. I can just imagine the sort of emails and comments I'd get, and I really don't want to correspond with needy parents via email at home. So, the new blog is purely infomational. If there's confusion about what I've assigned for the night, they can confirm it with the homework blog.
This has been something I've been considering for a while, but after two boys did three pages of math problems last night instead of one, and after a little girl did flashcards for 25 spelling words instead of six vocabulary words last week, I felt it was necessary. Kids seem to have a hard time getting things straight at the beginning of the school year - even with a Student Planner!