Of Mooncakes & Other Things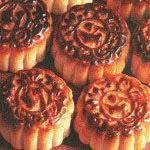 Wasn't the moon simply beautiful last night? I wish I'd spent more time outdoors admiring it.
Well, the mooncakes weren't a hit with my students - or my family! Ha! I think three kids out of thirty-one said they liked them. I so wanted to like them, but I don't get the appeal. They are so... pasty.
Maybe they'll grow on me, if I keep trying them each year. I didn't like sake for the longest time, but I've developed a taste for it and I'll drink it now when I go out for sushi. Maybe mooncakes are just one of those things you've got to try more than once? I don't know. They sure are cute! I even received a package of mooncakes from one of my Chinese-American students. That was so neat!
Our dining experience last night wasn't that great either. It was so nice to be together, but the food just wasn't very good. I love good Chinese food, so we'll just have to keep looking for some local Chinese restaurants where you get great food and that nice Oriental atmosphere. My sister's husband said they have a favorite take-out place nearby, so maybe another option is to do Chinese take-out on special occasions. We can jazz up the table with thematic items, put on some Chinese music, and try some games or crafts that tie in with the holiday. I don't know exactly, but I know that I want to make some of these Chinese holidays a part of Jillian's childhood. In part to pay homage to her country of origin. I really want her to be proud of who she is, where she came from, and to have a positive association with Chinese culture. I also think it will be a lot of fun.