Ready to Walk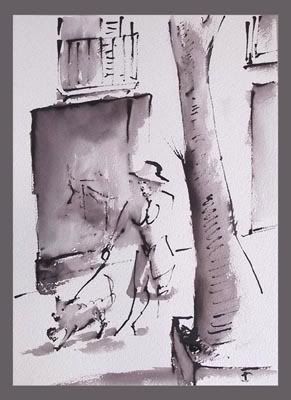 In the last five days, Buffy and I have walked 12 miles! I'm still amazed by her good behavior. Walking through the neighborhood and the adjacent park has been fun, too. I enjoy seeing the holiday decorations that are starting to show up, and the park is really beautiful and peaceful this time of year - Little League is over.
However, I wasn't prepared to walk after dark, and it gets dark so early this time of year. And it's cold, too!
So, tonight I went over to Sports Chalet and purchased a fanny pack to hold a small flashlight, my keys, and my cell phone. I also want to get some pepper spray for would-be aggressive dogs or human scum - although if I let Buffy back on my left side she'll just go back to being Mr. Hyde and defend me to the death!
I also purchased a couple of fleece jackets to keep me warm, and a pair of fleece gloves. I'm a wimp when it comes to the cold, anything below 65 degrees gives me goosebumps!
So, no walk tonight.
But I'm prepared for tomorrow night!
*************************************
Sigh...
Not only is it very chilly outside, the wind is fierce. I don't do wind. Earlier it looked like it was going to get foggy, but the weather service says it's just "blowing dust". Yuck!
Why is it that everytime I get started with a workout routine SOMETHING conspires to keep me in the house instead?