What Santa Brought
New dishes!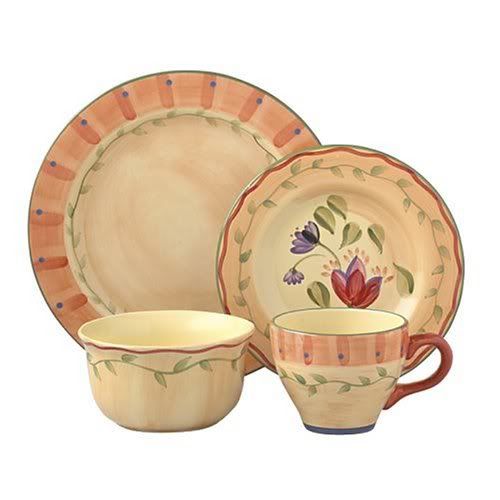 We have a gift exchange between the adults in the family and my grandmother had my name. I requested this new set of dishes and she didn't disappoint me. They are Napoli by Pfaltzgraff. I haven't had new dishes in several years and I've broken most of the bowls and coffee mugs, so my request was practical. Thank you, Tata!
After a delicious breakfast and our gift exchange, we spent the rest of the day putting together a puzzle. I only spent about a half-hour on that puzzle, actually. I don't have patience for most puzzles, and yesterday's was no exception. I had brought a book and some magazines, and enjoyed having the time to read.
For dinner my mother made an amazing lamb roast. I'm telling you, you can't go wrong with an Ina Garten recipe! Her recipes have always turned out well for us.
Herb-Roasted Lamb
by Ina Garten (from Barefoot Contessa - Family Style)
12 large unpeeled garlic cloves, divided
1 tablespoon chopped fresh rosemary leaves
Kosher salt
Freshly ground black pepper
2 tablespoons unsalted butter, melted
1 6-pound boneless leg of lamb, trimmed and tied
4 to 5 pounds small unpeeled potatoes (16 to 20 potatoes)
2 tablespoons good olive oil
Preheat the oven to 450 degrees. Place the oven rack on the lower third of the oven so the lamb will sit in the middle of the oven.
Peel 6 of the cloves of garlic and place them in the bowl of a food processor fitted with the steel blade. Add the rosemary, 1 tablespoon salt, 1 teaspoon pepper, and butter. Process until the garlic and rosemary are finely minced. Thoroughly coat the top and sides of the lamb with the rosemary mixture. Allow to sit at room temperature for 30 minutes to an hour.
Toss the potatoes and remaining unpeeled garlic in a bowl with the olive oil and sprinkle with salt. Place in the bottom of a large roasting pan. Place the lamb on top of the potatoes and roast for 1 1/4 to 1 1/2 hours, or until the internal temperature of the lamb is 135 degrees (rare) or 145 degrees (medium). Remove from the oven and put the lamb on a platter, cover tightly with aluminum foil. Allow the lamb to rest for about 20 minutes. Slice and serve with the potatoes.
(My mom used her meat thermometer and took the lamb out of the oven when it reached 135 degrees. Since it keeps cooking while it rests, the result was more like medium than rare. I recommend you do the same, unless you really like your meat well-done.)
Throughout the day we sipped on champagne cocktails. Here's the recipe:
Champagne Cocktails
In a large, glass pitcher combine
1/2 liter of cranberry juice
1 whole bottle of champagne or sparkling wine (I used an inexpensive German sparkling wine)
2 splashes of Chambord liqueur
Serve chilled in festive glassware.
Cheers!