I'm Still Here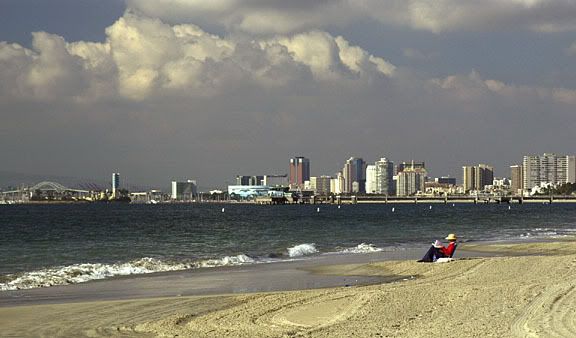 I wish that were me down on the beach in Belmont Shore, but I'm holed up here at home working on a paper this weekend. I love this shot of downtown Long Beach. If you've never been here before, I must tell you that Long Beach is a great town. I call it a little, big city. It's the fifth largest city in California with nearly a half million residents.
Long Beach is a college town. We have our own airport, a world class aquarium, beautiful beaches, the Queen Mary, pricey real estate, award winning and beautiful neighborhood parks, and lots of great shopping and dining. It also has a little bit of a Midwestern feel to it. In fact, Long Beach has been called the 'Iowa of the Pacific', because so many Midwesterners moved out here after WWII. Because of that, the area of Long Beach I live in is very traditional and modest. People take good care of their homes and take pride in their community, but I don't feel like everyone is quite as caught up in materialism and pretentiousness as parts of Los Angeles and Orange County seem to be.
In the early summer, thousands of Jacaranda trees all over the city come into bloom and they are simply gorgeous. I have grown to love Long Beach in the ten years I've lived here. It's a great place to call home.