In the Name of Beauty
Over the holidays, I spent a Nordstrom giftcard on some L@ncome products and received a sample of this with my purchase:
I
really
enjoyed the way it made my skin feel. It is designed to fight wrinkles and I'm not fighting too many wrinkles just yet (thank goodness!), but this product just made my skin feel so supple and hydrated. Well, I was hooked, and so when my sample was almost gone I was ready to purchase some more. However, at the L@ncome counter my eyes nearly bugged out of my head when the saleswoman told me how much it was, and I walked away. But, it kept calling to me and I broke down a couple weeks later and ordered some online.
But because it has no SPF, I had to buy this, too: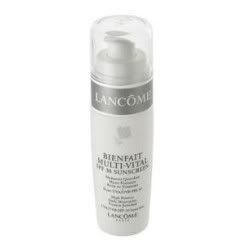 Well, I didn't
have to
, but I chose to. It's SPF 30, that's pretty serious!
In the past, I've always used moisturizers that I could purchase from the drugstore or Tarjay and I
was
fine with that. But now I've been spoiled and I don't think there's any going back! Ack!
And, today I just scheduled my first in a series of
PhotoFacials
! I'm hoping they will be successful in eliminating the redness and discoloration I've developed in the last few years. I may have few wrinkles, but I've got other issues with my skin.
So, what are your favorite beauty products. I want to hear about good deals and/or the things you're willing to splurge on, ladies!