Catching Up
I had such a nice Spring Break. For starters, I ate my way through San Francisco with my good friend Teresa. She has moved to a neat neighborhood called The Richmond, which is adjacent to Golden Gate Park. Teresa tells me that it's the foggiest neighborhood in the city, but the sun came out every morning and the weather was just perfect while I was there. She is just one block away from the main street in her neighborhood, and that makes it easy to walk down to all the neat shops, markets, and restaurants nearby.
We ate all kinds of food - French, Chinese, Japanese, Italian. It was all delicious. We drank wonderful wines. The first day I was there, we were shopping for some gift bags, and stumbled across the local wine shop's weekly tasting event. They were sampling French wines, and we tasted several that we really liked. I brought home a Chateauneuf-du-Pape that's just heavenly. I'm saving it for a special ocassion. I was also introduced to a Spanish Tempranillo. Sigh... What a treat!
We also made a trip to the somewhat new Asian Art Museum. Take a look at some of the lovely things we saw there:
On Sunday, we drove down to Alameda to meet up with
Wendy & John
,
Team Salsa
, and
Kimi
for some delicious dim sum. I'll have to admit that I didn't appreciate the dim sum as much as I should have because I was totally distracted by the oh-so-darling Rose and Marie. Who wouldn't be? Eighteen months old and they're Internet celebrities! It was great to finally meet Mary-Mia and Rod - I've been following their blog for a year or more. Wendy and John are just the sweetest people, and I wish I'd had more time to visit with them. Next time! Kimi was so excited about being recently DTC, and she put her skills to the test by entertaining Rose and Marie while we were waiting for our check. She knows what kids like!
Once I got home from my trip, I put on my walking shoes. After all that eating, I had to get moving! I've been walking three miles every day, and I intend to do so for the rest of the month. That's my goal. The weather hasn't been that great for too many things, but it's perfect for walking.
Today was the first day back to work. I was happy to be there as I'm on call-in jury duty service each day this week. I've got my fingers crossed that I won't have to report at all. State testing begins three weeks from now, and I have a lot of preparation and review to cover with my students. Getting stuck on a jury right now would not be good.
Lastly, it's official!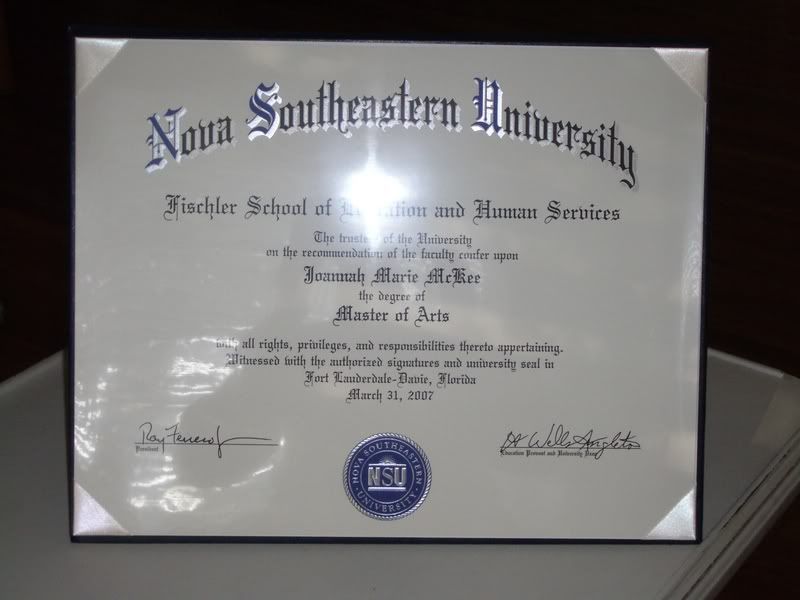 No, I did not mock that up in Photoshop. I earned it the old-fashioned way. That's my ticket to a nice fat raise next fall. Oh, yeah!