Beautiful!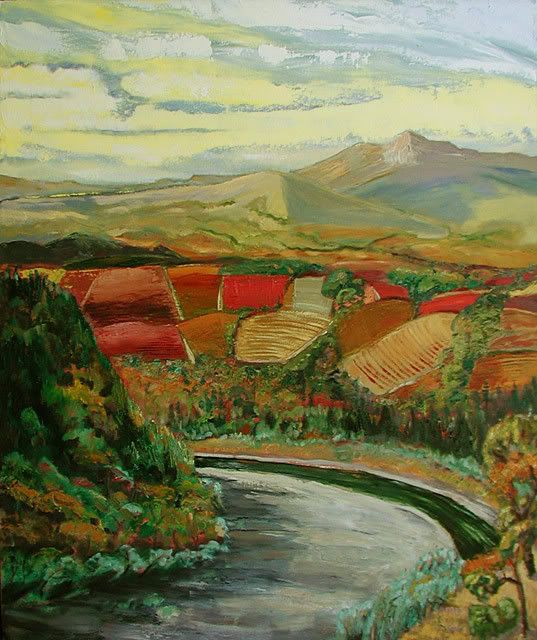 Northern California is so beautiful! I just got back from a quick trip to the wine country with my sweetie, Michael. I wish I could have spent the whole week up there, but I had to report to summer school this morning. Sigh...
We stayed along the Russian River under the Redwood trees. There is nothing like a drive down a two-lane road, with the river running alongside the road, and the Redwoods forming a canopy above. Sure beats driving down the 405, let me tell you!
We did a little wine tasting - sparkling wine and pinot noir - our favorites. We visited Domaine Carneros, seen below. I particularly liked this winery because the building reminded me of some of the chateaus I saw in France. In fact, this is Tattinger's (a French champagne house) USA endeavor. We sat out on one of the balconies sipping our samples and gnoshing on cheese and crackers. Yum! The service here was top-notch, too.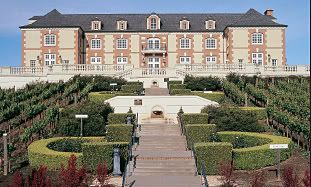 The same day we visited Domaine Carneros, we also tried to visit Domaine Chandon, but when we arrived we were told they were closed due "technical difficulties". How technical is it to open a bottle of champagne - I mean sparkling wine? Nevertheless, we managed to return the following day and weren't turned away again. The grounds here were lush and beautiful. We enjoyed a sampling of three of their many sparkling wines and another cheese plate. I wish I could drink champange more often. It's fun! ;-)
We also enjoyed two gourmet dinners while we were away. The food and wines in this area are excellent. It's hard to have a bad meal! We even came across a Farmers Market on our first day, and we couldn't resist the beautiful produce. So, we stocked up on oranges, peaches, nectarines, plums, and cherries. We purchased much more than we could consume in such a short time, and so on the way back we donated what we had left to a sweet lady who was down on her luck near the airport. She was very appreciative, and we felt good knowing she'd be eating something healthy and fresh.
It was so good to be away - to see and taste nature's beauty, to rest and relax, to talk and plan, to laugh and be carefree. We spoke hypothetically about living up in the wine country. I'm afraid that will only happen if one of us wins the lottery, but it was fun to talk about. I do know that spending time up there is something I want to do more often, though. It's just a beautiful place to be.