Jon's June Wedding
Last Saturday, my dear cousin Jon married the lovely HyeRin (pronounced Heddin) down San Diego way. Here's the beautiful couple just after the wedding:
Jon is quite a bit younger than I, and so I remember him from some of his earliest days. In my opinion he was the cutest baby boy ever, although his brothers were pretty cute, too. My sister and I really doted on him, and he had the sweetest nature so he just soaked all the love right up. Now he's all grown up, and from what I heard, it was practically love at first sight when he and HyeRin met last year. It was a beautiful wedding, and I hope they will make each other happy for the rest of their lives. Congratulations, Jon and HyeRin!
Jon's parents happen to be my favorite aunt and uncle. We had a lot of good times while I was growing up, and my aunt has always been somebody who I could talk to about almost anything. Even now she is always there for me. I love you Aunt Maureen!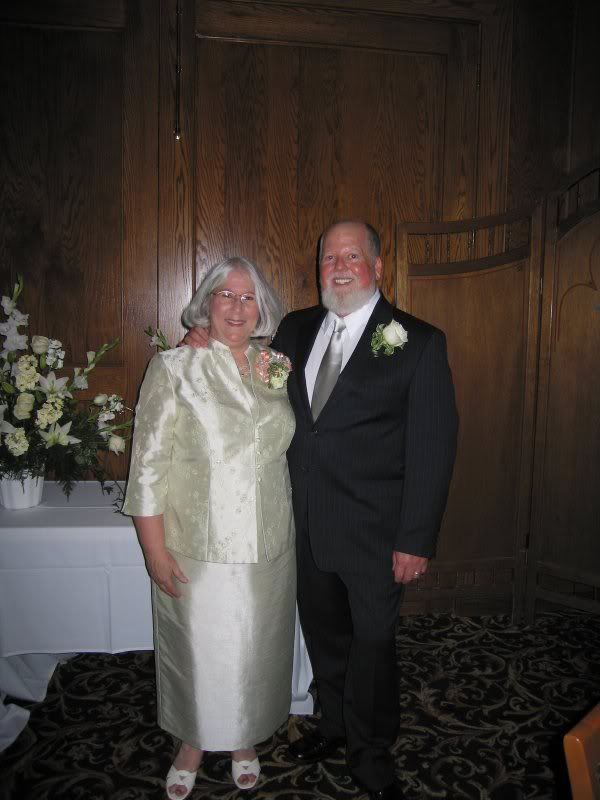 Don't they look so happy and proud! I'll bet my aunt is happy about having another woman in the family after raising three sons. ;-)
And, here am I with my mom just before the reception.
Yesterday and today I was doing the mall crawl (more like a sprint) making sure I have the things I need for my European adventure. I'm still searching for a cute, comfortable pair of brown sandals. I keep having flashbacks to the time I spent in France two years ago when it was so dang hot. My feet and ankles swelled up and I was miserable. Anyway, really good shoes are essential if I'm going to keep moving in Madrid. Apparently, it's cooler and wetter in London this week (yet scarier, thank you Isl@moF@cists...) so my feet will probably be fine once we get there. Hey, if you're one to pray, and if you'd keep me in your prayers while I'm traveling, I'd really appreciate it. I'm not a seasoned traveler and I'll have two days on my own getting there and back. With all that's going on, and my destinations being unfamiliar to me, I just get a little apprehensive.
I might get one more post in before I leave, but probably won't post again until I return. When I get back I'll share the highlights and some pictures here.
Hasta la vista...