Greetings from Haena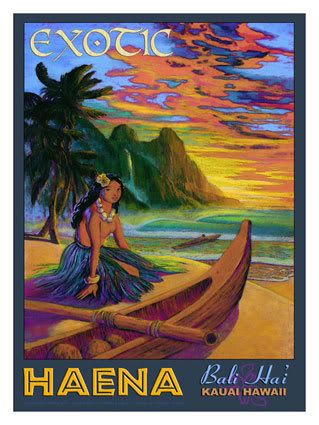 We arrived in Haena, Kauai yesterday afternoon. My parents and I had a lovely drive up the coast from the airport to the community of Haena. We took in the lush vegetation and amazing ocean views along the way. We gleefully explored our rental house upon arrival. It is just like something on HGTV! Every room has been
beautifully
decorated. The ginormous kitchen is fully stocked with all kinds of small appliances and nice cookware. The beds have excellent mattresses and nice linens. The master bathroom is about the same size as my bedroom at home! We're just living in the lap of luxury. I'm thrilled!
It was very warm all afternoon and evening, but the rain let loose very early in the morning before the sun rose. It rained hard for a while and then it became partially cloudy around breakfast time. For breakfast, I prepared for my family (with a little help from Mom and Julie) papaya with lemon juice, and Portuguese sausage, rice and eggs. My sweetie was born here in Hawaii. He is teaching me what he knows about traditional Hawaiian and Filipino foods, and I'm sharing what I've learned with my family while we're here. My BIL isn't a big fan of papaya, but he LOVED it with the lemon juice drizzled over the top.
A two minute walk across the street and down a little path takes you to this beach:
Don't you just love the color of that water?
I'm so glad I brought along my laptop and my wireless thing-a-ma-bob. My BIL and I are able to feed out Internet addictions! LOL! And I was able to Skype my sweetie, and my grandmother this morning. It's good to keep in touch. This vacation could only be more perfect if the two of them were here with us.
Oh, too funny! My whole family just went down to the beach for a swim, and now it's pouring rain! I'm glad I decided to hang out here for a little quiet time.
More later...
Aloha!